The Most Trusted Name for Cabinet Painting & Refinishing in Toledo!
At Renaissance Cabinet Refinishing, our skilled cabinet painting and refinishing professionals consider it a privilege to come into your kitchen - the heart of your Toledo area home - and we're proud to bring your refinishing goals to life! We're the local family-owned and operated interior painting, cabinet painting, and cabinet refinishing specialist in Toledo that you can rely on for professionalism, efficiency, and exceptional results.
Renaissance Cabinet Refinishing holds strong values, and our focus is aimed at exceeding our Toledo clients' needs. Our communication channels are always open and you can count on us for results that will exceed your needs ... and your expectations.
With over 30 years in the painting industry, our Master Journeyman painter will transform your Toledo home and give you the cabinets and interior painting of your dreams. At Renaissance Cabinet Refinishing, we customize our cabinet painting and refinishing offerings based on your specific needs, so get in touch today to receive a free initial quote.
Cabinet Painting & Refinishing Services
From the first contact to the final results, our cabinet painting and refinishing specialists at Renaissance Cabinet Refinishing offer personalized one-on-one services tailored to meet your needs. From kitchen cabinet refinishing to bathroom vanity painting to updating hinges and hardware for your mudroom storage cabinet, we provide a continued quality of work and expert knowledge that no other Toledo painting company offers.
We'll evaluate your current cabinetry, discuss your needs, and create a custom design and detailed quote to get you started on your dream kitchen, bath, or laundry room. It's our privilege to be welcomed into the heart of your Toledo home, and we'll treat your cabinet painting and refinishing project with the care it deserves.
Interior Painting Services
We've served the Toledo area as an expert cabinet refinisher since 2018, but with our painting services in high demand, we've returned to our roots and are adding quality interior painting services to our scope of work. We cater to the needs of every client to ensure the quality results you want and deserve.
Our interior painting specialist has reached the status of Master Journeyman painter and has over 30 years of experience lovingly and expertly painting ceilings, walls, trim, and specialty finishes. We've worked in homes over a century old for clients that include renowned artists, architects, and museums - now you can have the same high-caliber interior painting professionalism for your Toledo home with custom interior painting services from the pros at Renaissance Cabinet Refinishing.
Areas We Provide Services
Renaissance Cabinet Refinishing is proud to serve the Greater Toledo area with quality cabinet refinishing, cabinet painting, and interior painting services to meet your needs. We're a locally owned and operated family business, and it's our honor for you to welcome us into your home.
Check out a few of the areas served by the pros at Renaissance Cabinet Refinishing below. If you don't see your community listed, give us a call today at 419-389-2294 to speak to one of our friendly professionals about custom painting and cabinetry services for your area.
Why We are the Right Choice for Your Next Painting Project
Since 2018, our talented team at Renaissance Cabinet Refinishing has worked hard every day to provide the best cabinet painting and refinishing services for our clients in the Toledo area. We bring over 30 years of painting experience to your project, we listen to your input, and we create stunning masterpieces that will make your cabinet refinishing dreams a reality.
Don't just take our word for it. Check out what our clients in Toledo and the neighboring communities have to say about our professionalism, efficiency, and exceptional results they've received from the experts at Renaissance Cabinet Refinishing.
Reviews coming soon! [...]
Reviews coming soon! [...]
Reviews coming soon! [...]
Frequently Asked Cabinet Painting Questions
The cabinet painting and refinishing pros at Renaissance Cabinet Refinishing offer custom services for a variety of cabinetry types, offering expert painting, hardware replacement, and refinishing services. Whether you want to update your kitchen cabinets, repaint your bathroom vanity, or create stylish storage for your family room, mudroom, or laundry room, our cabinetry specialists will custom-tailor our services to meet your specific needs.
Sometimes you're so good at something, you simply don't have a choice. With over 30 years of interior painting experience and thanks to heavy customer demand, we've expanded our scope of work by returning to our roots and adding interior painting to our list of quality services at Renaissance Cabinet Refinishing. We offer expert interior painting for walls, ceilings, doors, and trim, along with specialty paint applications to make your dreams a reality.
You'd be amazed by the difference that simply changing out your cabinet hardware can make for the look and performance of your cabinets. From installing designer pulls and handles to fitting your cabinets with the latest in hidden hinges and slow-close technology, we can help you replace your out-of-date fixtures with stylish and functional fittings that will give your cabinets that "Wow!' factor.
For a fraction of the cost of cabinet replacement, our skilled cabinet refinishing and cabinet painting specialists can give your cabinets a designer look and a custom appeal that you can enjoy for years to come. We use a European finish system that is specially formulated for cabinets in colors to address lighting challenges and provide a high-quality high-end look for a surprisingly affordable price.
Our Recent Projects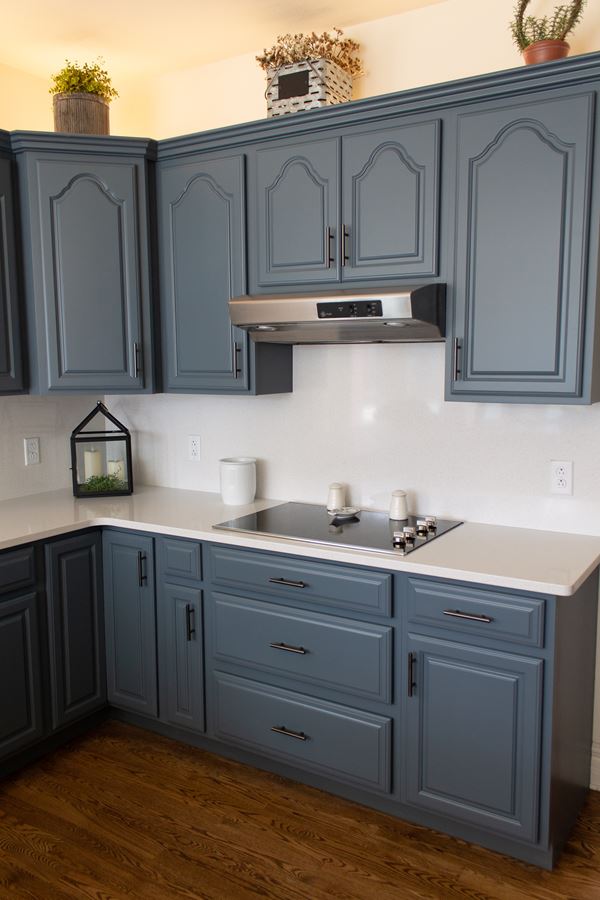 Kitchen Cabinet Refinishing in Perrysburg, OH
Blue. I think I'll paint the cabinets blue. This Rossford kitchen started out like any other kitchen. The homeowners contacted us, we came and looked at their cabinets, and provided a free quote. They were happy with our process and with our price, and booked us to […]
Tips From Your Toledo Cabinet Painting Pros!
Top 5 Reasons You Should Consider Cabinet Painting & Refinishing For Your Toledo Home

If you've been thinking about installing brand-new cabinets in your Toledo home's kitchen, laundry room, or other storage areas, you might want to consider cabinet painting & refinishing. As a cabinet painting & refinishing professional serving the Toledo area since 2018, I love to share my […]

Inside A Toledo Kitchen Cabinet Refinishing & Painting Project

Kitchen cabinet refinishing & painting can address issues with natural light, save you big money versus the cost of cabinet replacement, and help your Toledo kitchen remodeling budget go further - call the cabinet painting pros at Renaissance Cabinet Refinishing today for a free quote!Sometimes your […]

Expert Interior Painting Brings Your Toledo Home's Style To Light

Hiring an interior painting specialist to update the look of your home can help you address issues with natural lighting and turn your Toledo home into the home of your dreams or help you get top market value for your property listing - if you need […]