Kitchen Cabinet Refinishing in Perrysburg, OH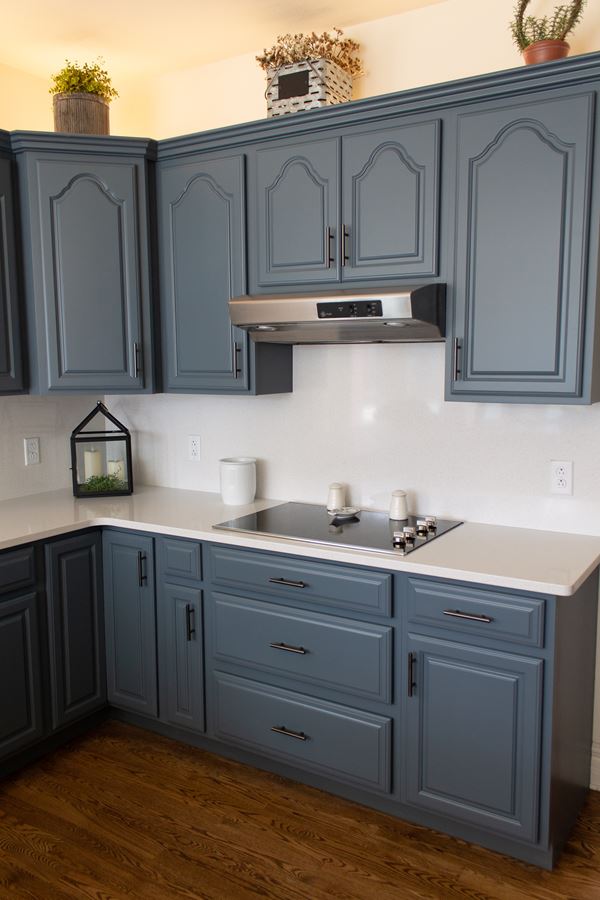 Blue. I think I'll paint the cabinets blue.
This Rossford kitchen started out like any other kitchen. The homeowners contacted us, we came and looked at their cabinets, and provided a free quote. They were happy with our process and with our price, and booked us to refinish their cabinets, starting in three months. They had just purchased their home, and had lots of other renovations going on, but felt that in three months, the timing would be right.
So, on the appointed day, we arrived ready to get to work! We chatted a bit with the lady of the house, and she let us know her color scheme would be blue on a portion of the bottom cabinets, and white on the rest. She had seen something similar in a magazine, and loved it.
(on a side note, does anyone call them cupboards anymore?)
Our process is to remove all the doors and drawers, numbering where everything goes, and start working on that part. The following week, we come back and start masking. Well, this was a big kitchen, so we allotted a little extra time, and masked away. Once the kitchen was all wrapped up nice and tidy, Steve got to priming - the blue cabinets (cupboards?) got a dark blue/gray primer, and the white cabinets got... you guessed it, white primer!
Fast forward about 10 days, and we are ready to reinstall the doors and finish the project. The homeowner is very excited to see us, but a little hesitant. As it turns out, the color combinations aren't *quite* what she envisioned from looking at the magazine! It's the white, really, that was throwing things off. The blue was just fine as an accent color. What can we do?? Well, really, it's just paint (OK, a water based 2K Poly, but that's for another post). If you don't like the color, we can change it!
We talked the homeowner through several different options, and she selected another three colors that she'd like to see samples of. Like Goldilocks and the Three Bears, those weren't quite right either. During our discussions on options and possibilities, the lady of the house again mentioned how much she loved the blue. We kind of looked at each other and exclaimed, almost simultaneously, "What about painting ALL the cabinets blue?!"
JACKPOT!
Is it a different choice in this current trend of gray and white? Sure. Is it a bold statement? Yup. Is it perfect for this kitchen? A thousand times YES!
Our one goal is for you to LOVE your kitchen. To come make coffee every morning and think "This is my kitchen!". It should be a place of refuge, calm, chaos, entertainment, personality. Totally yours!
Project Details
Photo Gallery